2018 HealthLeaders Media CFO Exchange
August 8-10, 2018  | The Ritz-Carlton Bacara, Santa Barbara, California
Join knowledgeable and experienced financial leaders in a roundtable format focused on improving a healthcare system's or hospital's fiscal well-being. The HealthLeaders Media CFO Exchange brings executives together to acquire best practices that benefit their organization. Member-led, small-group sessions provide a forum for shared ideas and solutions to challenges with financial concerns.
Cost:
Sponsors underwrite the Exchange program, so travel and accommodations are covered. Participants are also welcome to pay their own way, if preferred.
How to Qualify
The HealthLeaders Media CFO Exchange roundtable event is open to chief financial officers and vice presidents of finance at hospitals, health systems, and medical group practices.
Vendors, consultants, outsourcing solutions, and other suppliers are not eligible to participate. But we hope you will contact our director of sales for other opportunities with our programs.
If you have any questions about eligibility, please contact Julie Auton at jauton@blr.com.
Please note: This is a limited-size event and participation is based on availability. Meeting any or all criteria is not a guarantee of acceptance. Participation decisions are at the discretion of the HealthLeaders Media program team.
Agenda
Wednesday
6:00 p.m. – 8:00 p.m. Welcome Reception
Thursday
7:00 a.m. – 7:30 a.m. Buffet Breakfast
7:30 a.m. – 7:45 a.m. Event Kickoff/General Session
8:00 a.m. – 9:30 a.m. Round A Sessions
9:45 a.m. – 11:15 a.m. Round B Sessions
11:45 a.m. – 5:00 p.m. Leisure Activities
6:00 a.m. – 6:45 p.m. Cocktail Reception
6:45 p.m. – 8:30 p.m. Dinner
Friday
7:00 a.m. Buffet Breakfast
7:30 a.m. – 8:30 a.m. Ideas Presentations
8:45 a.m. – 10:15 a.m. Round C Sessions
10:30 a.m. – 11:30 a.m. WorkGroups: Hands-on workshop to tackle a specific objective
11:30 a.m. Adjourn
Roundtables
Previous sessions have addressed:
The Future of Value-Based Care - How financial leaders are charting a strategic course that produces a sustainable system in light of market instabilities and impending regulatory changes.
Innovation, Revenue, and the Growth Mandate – Exploringgrowth as a mandate and a tight market as an opportunity.
Consolidation-- Success strategies for merger, acquisition, and partnership activity among physician practices, community hospitals, and health systems.
Capital programs--Determining strategic investments for equipment, software, facilities, consolidation, and innovation.
Physician compensation – Creating compensation plans that assure provider productivity, cost performance, and organizational alignment.
Payer contracting – Negotiating best rates and terms with payers, creating provider-owned health plans, and initiating direct-to-employer contracting. 
Location & Activities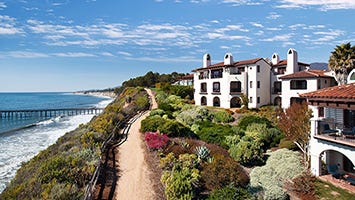 Located along California's most spectacular stretch of Pacific paradise, with 78 acres of oceanfront property, including two miles of natural beach, the Ritz-Carlton Bacara resort offers luxury suites and guestrooms in an inspiring, sun-drenched setting. Enjoy vista views of the sea and sky while embracing an innovative, artful design of low-storied buildings terraced to the sea and connected by lush, meandering garden paths.
Participating Organizations
Anne Arundel Health System
Annapolis, MD
Asante Health
Medford, OR
Bellin Health System
Green Bay, WI 
Columbus Regional Hospital
Columbus, IN
Covenant Health
Lubbock, TX
Eisenhower Medical Center
Rancho Mirage, CA
Frederick Memorial Hospital
Frederick, MD 
Froedtert Hospital
Milwaukee, WI
HealthFirst Medical Group
Melbourne, FL 
John Muir Health
Walnut Creek, CA
Jupiter Medical Center
Jupiter, FL 
Kettering Health Network
Dayton, OH
Martin Health System
Stuart, FL
MemorialCare
Fountain Valley, CA
Methodist Le Bonheur Healthcare
Memphis, TN
MetroHealth
Cleveland, OH
Mission Health
Asheville, NC 
Ohio Valley Medical Center
Wheeling, WV 
Orlando Health
Orlando, FL
Our Lady of the Lake Regional Medical Center
Baton Rouge, LA
Parker Adventist Hospital/Centura
Parker, CO 
Piedmont Columbus Regional
Columbus, GA 
ProMedica
Toledo, OH
Saint Peter's Healthcare
New Brunswick, NJ 
Scripps Health
San Diego, CA
South Nassau Communities Hospital
Oceanside, NY
Southwest General Health Center
Middleburg Heights, OH
Sutter Health
Sacramento, CA
St. Jude Children's Research Hospital
Memphis, TN
Tidelands Health
Georgetown, SC
Truman Medical Centers
Kansas City, MO
Tucson Medical Center
Tucson, AZ
UC Davis Health System
Sacramento, CA
University of Minnesota Health
Minneapolis, MN
University of Texas Medical Branch
Galveston, TX
UW Health
Madison, WI
Sponsors
Sponsors use this opportunity to conduct focus groups to learn about issues leaders are facing in the healthcare arena. It also provides a way to connect with their audience. These sessions are not sales presentations. We ask that executives participate in a single sponsor focus group during the event. There are five members in each of these sessions.