Value-Based Care Delivery Under MACRA: Live! Practical Training Through HealthLeaders Media Virtual Workshop -
On-Demand
Now available ON-DEMAND
Presented on:
Wednesday, March 28, 2018
Presented by:
Ellis "Mac" Knight, MD, MBA
Level of Program:
Intermediate
MACRA is an important but little-understood component of reimbursement for physicians, hospitals, and health systems. Many healthcare leaders, administrators, and clinicians still have unresolved questions about how these payments affect their bottom line and how best to deliver value-based care under MACRA. Train your entire leadership and revenue cycle teams on MACRA in this HealthLeaders Media virtual workshop.
During this three-hour on-demand program, Coker Group Senior Vice President and Chief Medical Officer Ellis "Mac" Knight, MD, MBA, will teach participants the ins and outs of MACRA. Participants will have the opportunity to ask questions in real time about their own experiences. Polling questions will also help participants see how their responses compare to those of their peers.
At the conclusion of this program, participants will be able to:
List the drivers of value-based care delivery

Thought leadership (competing on value)
Reimbursements/incentives (MACRA)
Healthcare consumerism (patients and employers)
Competitive landscape (capturing market share)
Provider discontent (the Quadruple Aim)

Understand how to organize and operate successfully under MACRA

Clinical integration

Organizational restructuring
Operational retooling
Competitive differentiation

Who Should Listen?
CEOs
CMOs
Physicians
Physician practice administrators
Chief integration officers
Chief strategy officers
CFOs
Chief value officers
Finance directors
Directors of managed care
Revenue cycle directors

Agenda
Part 1: Five-question survey responses about MACRA. Participants can benchmark their results against the answers of their peers. Discussion will follow on drivers of value-based care.
Part 2: In-depth discussion of value-based reimbursements, including:

Clinical integration:

Clinical operations
Financial operations
Population health management

Part 3: Deep dive into MACRA. Participants will learn the steps and requirements of adapting MACRA models into their organizations for clinical integration. Topics will include service lines, patient flow, and care process design systems.
A live Q&A session will follow each of the three segments, with short breaks provided after each Q&A.

Meet the Speaker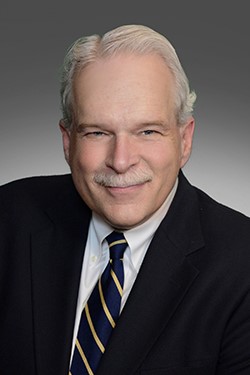 With over 30 years in the healthcare arena, Ellis "Mac" Knight, MD, MBA, has developed significant experience and knowledge in this industry. Before joining Coker, Dr. Knight served in several executive roles for Palmetto Health in Columbia, South Carolina. There, he oversaw Palmetto Health's employed physician network, ambulatory services division (rehab, lab, home health, hospice care, and imaging), and helped to develop and manage their clinical integration program. Earlier, he was Palmetto Health Richland's vice president for medical affairs.
Dr. Knight graduated from Stanford University with a Bachelor of Arts degree in Human Biology and received his Doctor of Medicine degree, cum laude, from the University of Oregon Health Science Center's School of Medicine. He earned a Master of Business Administration from the University of Massachusetts at Amherst. He also holds fellowships in the American College of Physicians, the Society of Hospital Medicine, and the American College of Healthcare Executives.
Dr. Knight oversees Coker Group's hospital strategy and operations services and is Coker Group's chief medical officer. He has particular expertise in population health management, clinical care process design, cost accounting, hospital revenue cycle management, and hospital-physician integration. He is familiar with the management and operations of rural hospitals, community hospitals, public hospitals, and large health systems (including academic medical centers).

Webinar system requirements and program materials:
To fully benefit from the webinar experience, please note you will need a computer equipped with the following:
Browser: Microsoft Internet Explorer 6 or later, Firefox, Chrome, Safari, with JavaScript enabled
Internet: 56K or faster Internet connection (high-speed recommended)
Streaming: for audio/video streaming, Adobe Flash plug-in or Safari browser on iOS devices
Prior to the webinar, you will receive an e-mail with detailed system requirements, your log-in information, presentation slides, and other materials that you can print and distribute to all attendees at your location.
CAN'T LISTEN LIVE?
No problem. The ON-DEMAND version is also available! Use it as a training tool at your convenience—whenever your new or existing staff need a refresher or need to understand a new concept. Play it once or dozens of times. A $399 value!
PLEASE NOTE
Participation in the webinar is just $399 per site. All materials must be retrieved from the Internet.